"DuFord introduces us to the people of Panama, and he does it hilariously
and most perceptively."
--The Panama News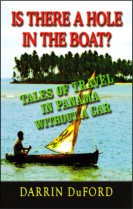 Order Now from Amazon.com

Amazon.ca
Amazon.co.uk
Upcoming Events


September 17, 2017: Meet Darrin DuFord at the Brooklyn Book Festival! Darrin DuFord will be signing copies of his award-winning book Breakfast for Alligators: Quests, Showdowns, and Revelations in the Americas.

Brooklyn Book Festival
Brooklyn Borough Hall and Plaza
Brooklyn, NY

Public Transportation: 2, 3, 4, 5 to Borough Hall; R to Court Street; A, C, F to Jay Street/Borough Hall

Click here to view past events