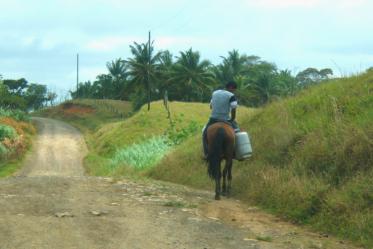 Panama Travel Tips


his list covers practicalities of interest to the independent-minded traveler to Panama. It is not intended to be a replacement for a more general guidebook on Panama. The best guidebook choices appear below the tips.

Twenty dollars is a lot of money in Panama. For typical rides of a dollar or two, taxi drivers almost never accept twenty-dollar bills. Street vendors rarely accept them (unless, of course, you are buying an item that costs more than $20). Many taxi drivers and vendors won't even accept ten-dollar bills! It's also hard to tip that boatman after a half-hour ride when all you have are twenties. Unfortunately, the ATM machines in Panama only dispense—yes, you guessed it—$20 bills. Break twenties at large grocery stores when you stock up on bottled water and snacks. If it's within your budget, you can also break twenties at sit-down restaurants.


Speaking of small change: hold on to your nickels. You'll need them if you plan on taking public buses out of Panama City. After you pay for your bus ticket at the Albrook Bus Terminal, you have to pass through a turnstile that only accepts nickels. (The American nickel and the Balboa nickel are equivalent and both work). For more on riding the bus in Panama, click here.


With its central location, Panama City makes a great base of operations. Pick a hotel with a self-service, coin-op laundry room (Hotel Las Vegas has one) and you can take care of your between-trip chores cheaply and at hours when regular laundromats are closed.


When taking a Panama City taxi:
a) always agree on the fare beforehand. No fare within the city should run more than $3, with most being $1.50 or $2. It costs $4 to get from the domestic airport (Albrook) to the El Cangrejo area of the city.
b) like many other Latin American countries, the driver may try to convince you to leave your hotel and stay at his friend's hotel instead. If you are happy with your hotel, be prepared to deal with a little harassment. If you are taking a cab to your hotel from somewhere else and you want to keep the driver off your case, tell the driver to drop you off a block from your hotel (memorize the street names and don't mention the hotel). If he asks where you are staying, tell him you're staying with a friend.
If, on the other hand, you don't have a hotel booked yet, fret not. Just about any taxi driver will refer you to his friend's hotel so he can make a kickback. As for the value and safety of his friend's hotel, that is for you to decide. Aim for hotels in or near El Cangrejo, since that area is relatively safe at night. Most decent rooms with private bath are $50 to $80 per night.
c) for trips within the city, tipping is unnecessary, and often leads to confusion.
d) as of March 2012, a cab ride from Tocumen International Airport to Panama City runs $25, or $28 if you opt for the faster route, la autopista (the highway). A typical tip is 10%.
e) getting a cab from Panama City to Tocumen Airport is cheaper. $18 (not including the $2.40 toll for la autopista) is a rate you can get from most street taxis with a little haggling.
f) most city taxis do not have seatbelts. If you prefer seatbelts, have your hotel call for a taxi. They usually cost a dollar or two more per trip. Under no circumstances should you get into a cab if the cabbie has bottles of beer in the drink holders (don't buy any excuses like "They're not mine, they were for the last clients").


If you don't speak Spanish, try to learn a little. It's not only polite, but you'll get to experience more of the Panama for Panamanians, as opposed to Panama for tourists. You'll find that vendors selling wares geared towards tourists will probably know some English, but the people who run local stalls usually do not. Learning the numbers, at least, will assist in bargaining. Besides, those same Spanish skills will come in handy the next time you visit Latin America or Spain (or the Ecuadorian/Mexican/Colombian restaurants in Queens).


It is not always easy to "blend in," but you will help matters if you try to dress the part. In Panama City, jeans are popular with both men and women. Shorts will make you look like a tourist (along with any camera dangling around the neck). For men, pick up a few guayaberas: 2- or 4-pocketed, embroidered shirts that are perfect for the sticky climate. There are a few stores that carry guayaberas on the north side of Via España in between Via Argentina and Via Veneto, ranging from $7 to over $40, depending on quality and style. Polo shirts are also popular for dining out at steakhouses and midrange restaurants.


In the provinces of Herrera and Los Santos, jeans also rule, unless you are a child in uniform going to school.


The sartorial situation is much different in Bocas del Toro, where, in laid-back Bocas Town, just about anything goes—shorts, jeans, or bathing suits. If you are prone to sunburn, wearing jeans in Bocas del Toro might still be a good idea if only to keep your knees from frying to a crisp on boat rides (the UV index hovers around 10 most if the time).


Both jeans and shorts are de rigueur in most of the indigenous villages, except during formal events on the Kuna islands, where all men must wear long pants (even sweatpants are acceptable!).


Shellfish lovers take note: from March 1 to May 30, no shellfish (spiny lobster, crab, octopus, conch) caught from Kuna Yala's waters can be sold or purchased. The ban is part of Kuna Yala's unilateral conservation program, started in 2005. Restaurants and lodges of the autonomous province will still be serving fish during the ban, however.




Guidebook Recommendations


Fortunately, travelers to Panama finally have several guidebook choices:

The new 2010 LP Panama update, written by Carolyn McCarthy includes informative sidebars on culture, including a piece on Panamanian musician/politician Ruben Blades. As with most LP guidebooks, LP's Panama guidebook has the most maps. Some of the maps are a little outdated, however: the Centenial Bridge, completed in 2005, has yet to make it onto an LP Panama map. On the whole, though, LP delivers a solid guide that offers options for backpackers thru luxury tourists.

In mid to late 2005, two more guidebooks were released: Moon Handbooks Panama and Panama: The Bradt Travel Guide, both of which having excellent content and a good variety of hotel listings. Moon released an update in 2008.

Frommer's entered the ring with its well-researched Frommer's Panama guidebook in late 2006, and an update in 2009, and another updated version in 2010, although the book is generally geared toward midrange and high-roller tourists.

Rough Guides' Panama Guidebook, released in 2010, contains well-balanced history and background, good hotel listings in a variety of price ranges, and decent maps, even of less visited towns such as Las Tablas. Author Sara Humphreys adds just enough dry humor, such as in her description of the Museo de Azuero: "Don't miss the pouch made from a bull's scrotum used to carry staples for mending fences."