"DuFord introduces us to the people of Panama, and he does it hilariously
and most perceptively."
--The Panama News

Encounters with spiny lobster, naranjilla shakes, freshly toasted cashews, and more...

IS THERE A HOLE
IN THE BOAT?
Tales of Travel
in Panama
without a Car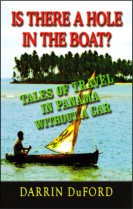 Order Now from Amazon.com

Amazon.ca
Amazon.co.uk
Papas a la Huancaina


While I've had papas a la huancaina several times in Peru, one of my favorite versions of the dish ironically happens to be served at the Andean restaurant "Tu y Yo" in Astoria, NY. This recipe resembles theirs, but with the addition of chunks of queso blanco on top (and minus the garnish of hardboiled eggs).



Ingredients

8 ounces + 2 ounces queso blanco (Latin American white cheese), chopped into dice-sized cubes
juice from 1/2 lemon
2 cloves garlic, chopped
1 tbsp olive oil
2 tbsp huacatay-yellow pepper sauce (available at Latin American grocery stores; see photo below)
4 oz. heavy cream
A few leaves of romaine lettuce
salt to taste
6 yellow or yukon gold potatoes

Boil potatoes in salted water. While potatoes are boiling, sautee garlic in olive oil for two minutes. Pour garlic and all the olive oil from the pan into a blender. Add huacatay-yellow pepper sauce, lemon juice, 8 oz of the queso blanco cubes, heavy cream, and a pinch of salt. Blend until smooth. If sauce is too thick, add a little milk or lemon juice. If it is too thin, add a little more cheese. Depending on the cheese and your blender, the cheese might not become pureed completely.

After potatoes have cooled, slice the potatoes into 1/3 inch (about 1cm) slices. Place romaine leaves on plate. Place potato slices on top of lettuce. Pour sauce on top of potatoes. Place remaining cubes of queso blanco on top. Best served at room temperature.

Serves 4 appetizer portions.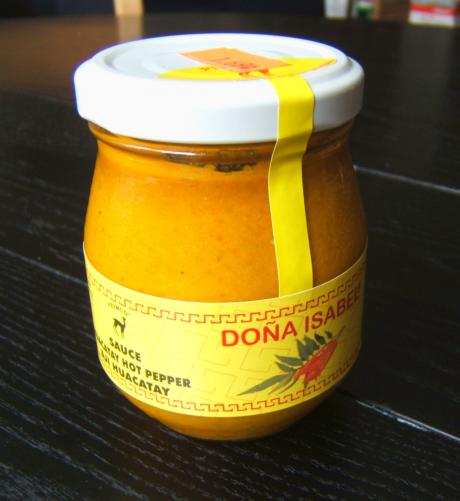 Above: Peruvian-made sauce of aji (yellow pepper) with huacatay (black mint), the backbone of papas a la huancaina's heat and flavor.

Recipe archive