"DuFord introduces us to the people of Panama, and he does it hilariously
and most perceptively."
--The Panama News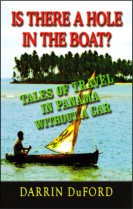 Order Now from Amazon.com

Amazon.ca
Amazon.co.uk
News Archive



1/6/18: Dulse: it's the jerky of the sea. Details are here.

12/4/17: I'll be signing copies of gold-medal-winning Breakfast for Alligators at the Astoria Holiday Market on December 10. All the details are here.

9/8/17: Hey NYC-area folks, I'll be signing copies of Breakfast for Alligators at the Brooklyn Book Fair on September 17. Check out the details here.

7/27/17: What am I reading? I revealed my current nightstand selections in an interview with the Tampa Bay Times.

7/21/17: The artichoke is the Price Is Right of vegetables, with or without garlic and olive oil.

7/3/17: Meanwhile, on the divided island of Cyprus, nature is slowly reclaiming fenced-off buildings facing a once-famous beach.

6/2/17: In Newport, Rhode Island, I harnessed the power of chowder.

4/19/17: I'm thrilled that Breakfast for Alligators won a gold medal in the 2017 Independent Publisher Book Awards!

3/13/17: Today's blog: an encounter with river snail soup -- a dish that also happens to be a piece of southern China's intangible cultural heritage (just add boiling water).

3/1/17: I'm honored to have been awarded two gold medals in this year's Solas Awards (sponsored by Travelers' Tales). Congrats to all the winners!

2/27/17: Breakfast for Alligators is "refreshing, clever, and thoroughly entertaining" (Reader Views, 2/2017).

1/31/17: I'm thrilled that my piece about a Cartagena chef's take on the world's largest rodent won a gold medal in this year's NATJA awards.

1/10/17: Timbre Press has just released Stories of Music volume 2! I'm proud to be a contributor to this interactive collection of stories, poems, and photography.

1/6/17: Now online: my interview with Transitions Abroad, in which we talk about travel, writing, Spaceballs, the speed of the shoe, and invasive rodents, among other things.

11/22/16: Check out Panorama Journal's in-depth review of Breakfast for Alligators here.

10/10/16: On newsstands this week: the Oct 10 edition of Publishers Weekly has praised the "playful and pop-culture peppered prose" of Breakfast for Alligators as "succulent travel writing."

10/5/16: The San Francisco Chronicle has just described Breakfast for Alligators as "A bunch of great stories"!

10/3/16: Over at The Expeditioner, I explain how dogsledding, ice cider, and a parade during a snowstorm helped me embrace Winter in Quebec.

9/21/16: The latest reviews: Breakfast for Alligators is "Gritty, funny, street-savvy, boisterous, and informative" (Perceptive Travel) and "an eye-opener for both the untraveled and the well-traveled alike" (San Francisco Book Review).

8/31/16: The Kindle version of Breakfast for Alligators reached #1 in two of Amazon's travel categories. Thank you, readers!

8/3/16: Momofuku's impossible medium rare vegetarian burger that bleeds: reviewed.

8/1/16: Perceptive Travel has just published my account of separating truth from tall tale in the story of Oaxacan mole.

7/27/16: An excerpt of Breakfast for Alligators now appears over at the newly redesigned GoNomad. Enjoy!

7/20/16: I will be signing copies of Breakfast for Alligators at the Queens Book Festival in Astoria on August 7.

7/12/16: Breakfast for Alligators has just been released!

6/20/16: I just found out that my story about Panamanian hats will appear in The Best Travel Writing Volume 11 (Travelers' Tales/Solas House), to be released in the fall. I feel blessed--I have been a fan of the series since its inception.

5/19/16: The Kindle version of Breakfast for Alligators is now available for preorder!

3/29/16: Craving a second helping of capybara? I've got you covered--with a drink pairing at Roads & Kingdoms.

3/10/16: Is rodent meat ready for air-conditioned, linen napkin dining on a footsie-filled date night? I traveled to Cartagena, Colombia to find out.

3/8/16: My next book of travel narratives, Breakfast for Alligators, will be released in July by Tilted Hat Press! More details to come...

3/1/16: I'm stoked that two of my pieces, "Speaking in Hats" and "Off the Deep End in Captain Karl's Homemade Submarine," medaled in both the NATJA awards and the Solas Awards!

1/27/16: In my debut piece for Vice Munchies, I stumble upon the connection between Colombian street food and Dr. Seuss.

12/11/15: Barbecue celebrated and myths debunked at New Orleans' Food Museums: my latest for the San Diego Reader.

11/19/15: Timbre Press has just released Stories of Music vol 1! I'm proud to be a contributor.

11/18/15: The Smart Set just published my account of what I learned from Valparaiso's street art during a visit six years ago.

11/10/15: I'm stoked that my piece on the hats of Panama appears in this month's issue of Tales To Go, published by Travelers' Tales!

9/26/15: On today's blog, I attempt to explain how the marshmallow is a mindshare indicator.

7/13/15: In Panama, your hat can do the talking. I attempt to explain here.

5/21/15: Traveling to Martinique? When you encounter an ouassou, don't forget to suck the head.

5/10/15: Today's blog: this is how an Icelandic band impersonates a SWAT team in a New York City music venue.

3/13/15: Albino critter alert! In my first piece for Narratively, I narrate my journey at a depth of 2,000 feet underwater in a homemade submarine.

2/28/15: "Playing the Right Chord in the Rupununi," my latest piece for Unmapped Magazine, chronicles my time with the Makushi people of southern Guyana.

1/7/15: My story on Belize's lionfish invasion, published in Roads & Kingdoms last July, now appears in a travel anthology by World Traveler Press. It has been released today and is available at Amazon and Barnes & Noble!

12/29/14: Snout cam! The San Diego Reader just published my piece about hanging out with alpacas in Canada's Prince Edward Island.

12/5/14: I detail my thoughts on the intersection of zoology and street art on my latest blog entry: A Quiet Scene of Street Art in Astoria.

10/2/14: The biguine, the mazurka, and zouk become vehicles for a journey by music through Martinique in my latest piece for Perceptive Travel.

7/21/14: Bear sausage and wild boar steaks are just a few of the menu items on the game trail in Kvarner, Croatia.

7/16/14: Belize is dealing with lionfish, an invasive species, by eating them. I had to join in.

7/10/14: One of the things I found most surprising about Martinique was the island's thriving street art scene.

7/2/14: In my latest piece over at On A Junket, I explain how an icy two-step is part of Love, Death, and Protein in Panama.

5/23/14: Drunk rodents, anti-burek partisans, and snail sausages are all part of Istria's Edible Empires, my latest piece over at Unmapped Magazine.

4/30/14: I'm stoked that my piece on the demise of Panama City's hand-painted buses won first place in Transitions Abroad's 2014 narrative contest.

3/31/14: Here is car-centric Houston's take on street food: let's call it "park food."

3/3/14: I'm happy to announce that my travel writing has won two golds and two bronzes in the 2014 Travelers' Tales Solas Awards! Here is the list of all winners.

2/16/14: My appetite for frogs' legs scored me a bronze medal in the 2013 NATJA travel journalism awards! Here is the complete list of winners.

1/30/14: Subway riders: have you sampled someone else's reading material lately? Here are a few reflections on the public words on public transit.

11/5/13: I like 'em fat. Especially when their juice drips after I open 'em up. I'm talking about Croatian oysters. GoNomad just published a piece about my experiences with them here.

9/12/13: Click here for my photo gallery of the street art of San Ignacio, Belize.

7/23/13: Today over at BBC Travel, I explore the frog fare of Croatia.

7/3/13: In Turkey, I got as close as I could to 1,700 degrees in an attempt to understand the powers of the evil eye. The story is up today at The Smart Set.

6/26/13: Today's blog: a travel magazine from 1933 tells readers about a forerunner to the bikini, a decade before the bikini was invented.

5/8/13: My piece about Serge Gainsbourg, involving cans of beans and graffiti, is the feature of the week at Carry On.

4/8/13: Today's blog: Arizona is where metal turns to wine (Tool's Maynard Keenan is now a winemaker).

3/7/13: My piece "Journey by Bottle," published in the winter 2012 issue of Gastronomica, won a gold medal in the 2013 Solas Awards!

3/1/13: Two flippers in every pot! Seal is on the menu in Montreal. My take is in the March issue of Perceptive Travel.

2/28/13: What is an Every Burger? A Watering Kissmint? My attempt to find out is on today's blog.

1/22/13: Have you ever wanted to travel to North Korea? At the NY Times Travel Show, I found out how. My highlights of the event are on today's blog.

12/2/12: Hey space nerds: this month's issue of Perceptive Travel contains my sneak preview of Panama's first astronomical observatory. Read it here.

11/26/12: My Gastronomica debut! My piece on cassareep, a versatile Guyanese flavoring sauce, appears in the winter 2012 issue on page 27.

11/17/12: Is social media killing the act of travel? My take is in today's blog.

10/30/12: Today's blog: hurricane Sandy delivers a tale of Astoriana.

10/11/12: Deep fried garlic and politically incorrect seasonings are analyzed in my review of the Garlic and Harvest Festival.

9/7/12: A recent visit to Ithaca revealed that the city is like both a smoothie and a jukebox. Today's blog explains how.

8/24/12: Street art fans: FatCap.com just published my piece on the street art of Panama City.

7/6/12: In March, I stumbled upon comfort food in an unusual place: Santiago, Panama. The Panama News has the story.

7/6/12: The San Francisco Chronicle just published my latest piece, in which I attempt to Search for the Golden Fleece in Guyana.

5/7/12: Yesterday, I roamed off the menu for a whole roast pig in Astoria, Queens.

3/27/12: The latest edition of The Panama News contains a piece I wrote about a visit to the Chocolateria y Bomboneria Sebastian in Panama City.

11/11/11: Juvenile delinquency or trendy fashion opportunity? I'm talking about stilettos hanging on a telephone wire.

9/14/11: Has goat meat just gone urban chic? At Matador Life, I discuss how the subjects of an experimental goat husbandry project in Vermont ended up on a spit in a Brooklyn, New York backyard.

9/12/11: On a recent visit to Montreal, I reunited with the Fresh Paint of the City's Street Art.

8/3/11: Got stencils and wheat paste? Matador Nights just published my photo essay on the Sick Street Art of Montevideo.

7/30/11: Reflecting on past travels in Texas, I explore the relationship between barbecue and crude oil here.

6/28/11: Panamanian langostinos find themselves on a Greek grill in my latest blog: Waiter, There's a Monster on my Plate.

5/28/11: My piece "I Was a Thai Travel Trinket" appears in USAToday's travel section today, thanks to their partnership with Perceptive Travel.

5/3/11: My latest piece over at Perceptive Travel recounts a massage I received in an unexpected place in Bangkok. No, it's not what you think. Really!

5/1/11: Asparagus have begun appearing at farmer's markets across the northeast. Why steam them when you can broil them with pine nuts?

4/11/11: A pepperpot says to a parsnip: "Where have you been all my life?" The recipe is here.

3/14/11: Observations from travel around Turkey: What's so Funny about Death?

2/8/11: Here is what happens when a popular Guyanese sauce meets traditional American cooking: Baked beans with cassareep.

1/25/11: The geography of gastronomy reveals itself again during travels around Washington DC's East African communities: Washington DC's East African communities.

12/24/10: Reggae "Jingle Bells"? It must be Christmas season in Guyana.

12/7/10: The Chilean hot dog:too sexy for ketchup.

11/13/10: A walk through Hollywood farmers' market reveals killer snails and creepy lemons.

11/11/10: Today's blog: Curry and Karaoke in Long Beach's Cambodia Town.

10/31/10: Who says print is dead? Matador Travel Network just announced the launching of Beta, its new quarterly print magazine.

10/19/10: Over the weekend, I took a nostalgic trip down Connecticut's Pizza Belt.

10/11/10: Today's blog: thrills in a 99 cent store. Educational war toys! Something gained in translation?

9/30/10: Today's post goes out to all you Engrish hunters.

9/6/10: Anthropomorhic corn, dueling terrines, and beer made from carrots: that's what my wife and I found when we went locavoring in Quebec City.

8/26/10: Boring chicken dinner again? Try these four tasty rodents instead.

8/24/10: Food writer Alison Stein-Wellner interviewed me over at Perceptive Travel.

8/19/10: Get ready for green zebras, purple cherokees, and all the juice your belly button can hold: here are the Confessions of a Tomato Pervert..

8/5/10: Today's photo blog: Eye-catching warnings on Uruguayan cigarette packs. Collect them all!

8/3/10: Check out my new blog site, where I get a thrill out of sitting on Broadway.

8/2/10: Last week, I visited Pasadena without licking telephone poles.

7/8/10: Is There a Hole in the Boat? is now available on the iBookstore for your iPad, iPhone, or iPod Touch.

7/1/10: Grab your thermos and start dancing: in my latest piece A Dialog of Echoes in Uruguay, the music comes to your doorstep.

7/1/10: Travelers' Tales featured my medal-winning piece Showdown at the West Esplanade Canal as an Editor's Choice pick for this week.

5/24/10: Is There a Hole in the Boat? is ready for reading on your iPad. All you need is a PDF reader like Goodreader (available at the iTunes App Store). Download the book here and go!

5/6/10: How many live chickens can ride on the back of a motorbike in Cambodia? Find out in my latest piece over at GoNomad.

5/4/10: Lobster: it's not just for indentured servants anymore.

4/5/10: Click here to read how having brunch in Panama City reminded me of Joe Biden's loose-cannon larynx.

3/1/10: My piece "Showdown at the West Esplanade Canal" just scored a silver medal in this year's Solas Awards!

2/28/10: Here's a defense against an ornery Northeastern snow storm: Smoky Pig Foot Pea Soup.

1/11/10: Rumors are true: you can now follow me on twitter!

1/3/10: Edible Sputnik part II: You didn't think I'd forget the kohlrabi globes themselves, did you? Here's a simple Cream of Kohlrabi Soup recipe.

1/2/10: Kohlrabi: it's the sputnik you can eat. First, we'll eat the antennae like this.

12/18/09: Forget the fruitcake -- go for a sweeter treat, like I did: Fried Tarantulas. Taste the free-range difference!

11/23/09: Click here to uncover the noble mission of the the sacrifical vegetables.

8/12/09: Sure, seafood paella takes a lot of work to make. But you know you want it. My take on the recipe is here.

5/20/09: Asparagus season is here! (At least for us folks in the Northeast.) Here's how you can make use of 'em.

3/9/09: Ready your camouflage outfit and your spit cup, because I just enlisted myself as a culinary patriot in New Orleans. "Showdown at the West Esplanade Canal" over at Perceptive Travel covers all the action.

2/28/09: This is my kind of breakfast: this morning, I found out I scored a silver medal in this year's Solas Awards for my piece "Subdued by Street Vendors."